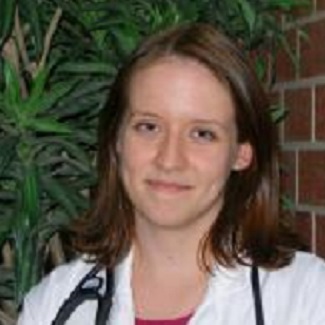 Julie Walker, DVM, DACVECC
Director

Originally from central Pennsylvania, Dr. Julie Walker completed her undergraduate education at Juniata College prior to attending veterinary school at Michigan State University. She completed her internship and residency training at North Carolina State University, achieving board certification by the American College of Emergency and Critical Care in 2012. Throughout her residency, Dr. Walker developed a particularly strong interest in blood banking and transfusion medicine. These subjects have been the focus of her research, teaching, and clinical interests since she joined the University of Wisconsin-Madison as a clinical track faculty member (2012-present).

Throughout her ten years of practice at UW-Madison, Dr. Walker has served in leadership roles including Chief of Small Animal Services (2021-present), Section Head of Emergency and Critical Care (2015-2018), Small Animal Blood Bank Director (2015-present), and Intern Committee (2012-present, co-chair since 2018). She also presently serves as an active member of Curriculum Review committees (2019-present), and the Infection Control Committee (2014-present).

Dr. Walker presents approximately 15-20 hours of lecture material and 30-50 hours of laboratory instruction annually within the UW-Madison School of Veterinary Medicine. She has been nominated three times by her department for the Zoetis Teaching Award (2015-2017). She provides direct and indirect mentorship for 9 rotating interns, 5 ECC residents, 9 faculty members, and many veterinary students.

Outside of duties at UW-Madison, Dr. Walker has provided continuing education lectures at national meetings including the AVMA convention, IVECCS, and ACVIM forum. She has served on the ACVECC Examination Committee (2016-present, co-chair from 2020-present) and as a peer reviewer of manuscripts for JVECC, AJVR, Vet Surg, JVIM, JSAP, JAVMA, and other journals. Specific to the subjects of blood banking and transfusion medicine, Dr. Walker is a member of the American Association of Blood Banks (2013-present), AVHTM (2016-present) and has had the honor of contributing to the Manual of Veterinary Transfusion Medicine and Blood Banking, edited by our colleagues Dr. Marie Holowaychuk and Kenichiro Yagi. Dr. Walker has been honored to be an AVHTM board member since 2019.

(Term thru 06/30/2023)